DJ Mad Max is working to bridge the gap between old & new school Hip-Hop through his show Sports and Hip-Hop with DJ Mad Max. With his vast Hip-Hop knowledge and unique interview style, he is introducing his generation to the legends that started it all. The show features a wide variety of guest stars including Hip-Hop artists of the past & present, R&B artists, producers/DJs, industry managers, and even pro athletes. When possible guest rappers bless the show with a freestyle. Max likes to mix it up and talk sports with his Hip-Hop guests, and Hip-Hop with his sports guests.
Episodes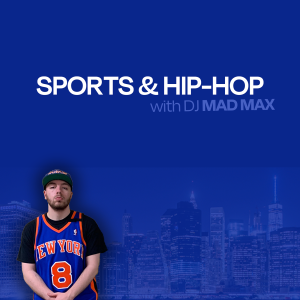 Tuesday Jul 19, 2022
Tuesday Jul 19, 2022
Big thank you to Brooklyn, New York's own Kota the Friend for coming on my show for an interview! Kota talked about his new album MEMO, why it is his last album for awhile, and his upcoming Flight Night (NYC) shows at Sony Hall. He discussed the importance of his song Father's Day, how each generation of father's should be better than the last, and attending the Brooklyn High School of the Arts as well as going to Five Towns College for Trumpet. He got into starting out finding his style on Jay-Z In My Lifetime instrumentals, outselling headliners in Los Angeles, and when he understood his self-worth, in which he wanted to stay independent. Kota also talked about his Free Not Woke Podcast, Johnny Depp winning his case against Amber Heard bringing closure to what he faced in the past on social media, and what he has learned from going to therapy.
Kota the Friend's new album MEMO is available on all platforms, including Apple Music: https://music.apple.com/us/album/memo/1623513111.
Follow Kota the Friend on Instagram and Twitter: @kotathefriend.
Follow me on Instagram and Twitter: @thereelmax.
Website: https://maxcoughlan.com/index.html.
Website live show streaming link: https://maxcoughlan.com/sports-and-hip-hop-with-dj-mad-max-live-stream.html.
MAD MAX Radio on Live 365: https://live365.com/station/MAD-MAX-Radio-a15096.
Subscribe to my YouTube channel Sports and Hip Hop with DJ Mad Max: https://m.youtube.com/channel/UCE0107atIPV-mVm0M3UJyPg. 
Kota the Friend on "Sports and Hip-Hop with DJ Mad Max" visual on YouTube: https://www.youtube.com/watch?v=Wojp4rnvnZM.