DJ Mad Max is working to bridge the gap between old & new school Hip-Hop through his show Sports and Hip-Hop with DJ Mad Max. With his vast Hip-Hop knowledge and unique interview style, he is introducing his generation to the legends that started it all. The show features a wide variety of guest stars including Hip-Hop artists of the past & present, R&B artists, producers/DJs, industry managers, and even pro athletes. When possible guest rappers bless the show with a freestyle. Max likes to mix it up and talk sports with his Hip-Hop guests, and Hip-Hop with his sports guests.
Episodes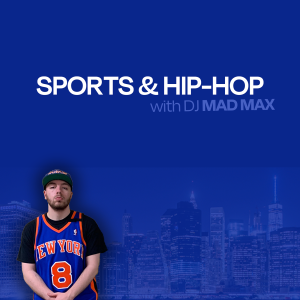 Wednesday Mar 15, 2023
Wednesday Mar 15, 2023
Shoutout to Stamford, CT and Mount Vernon, NY's own Jahan Nostra for coming on my show for an interview! Jahan discussed his new album Violet Skies, why he chose to have international production on the new album, and collaborating with Hip-Hop legend Masta Ace on Dedication 2. He talked about the CT Hip-Hop scene growing, performing with T.I. and Ludacris, and his songs Welcome Home and Embrace the Rain going viral in Japan. He also got into Violet Skies being one release of a 3 part series, having a West Coast Hip-Hop legend on his next release, and what is next for his record label Ever So Prominent Records. Jahan also gave his thoughts on the Knicks, the death of Datpiff, and directing/acting in his own music videos. Stay tuned!
Jahan Nostra's new album Violet Skies is available on all platforms, including Apple Music: https://music.apple.com/us/album/violet-skies/1674047815.
Follow Jahan Nostra on Instagram and Twitter: @jahannostra
Follow me on Instagram and Twitter: @thereelmax
Website: https://maxcoughlan.com/index.html.
Website live show streaming link: https://maxcoughlan.com/sports-and-hip-hop-with-dj-mad-max-live-stream.html.
MAD MAX Radio on Live365: https://live365.com/station/MAD-MAX-Radio-a15096.
Subscribe to my YouTube channel Sports and Hip Hop with DJ Mad Max: https://m.youtube.com/channel/UCE0107atIPV-mVm0M3UJyPg. 
Jahan Nostra on "Sports and Hip-Hop with DJ Mad Max" visual on YouTube: https://www.youtube.com/watch?v=DkkToWtY_RA.