DJ Mad Max is working to bridge the gap between old & new school Hip-Hop through his show Sports and Hip-Hop with DJ Mad Max. With his vast Hip-Hop knowledge and unique interview style, he is introducing his generation to the legends that started it all. The show features a wide variety of guest stars including Hip-Hop artists of the past & present, R&B artists, producers/DJs, industry managers, and even pro athletes. When possible guest rappers bless the show with a freestyle. Max likes to mix it up and talk sports with his Hip-Hop guests, and Hip-Hop with his sports guests.
Episodes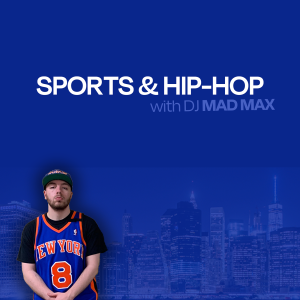 Thursday May 27, 2021
Thursday May 27, 2021
Big thank you to Power 105.1's DJ Suss One for coming on my show for an interview! Suss One talked about his start in the music industry as an intern at Sony Music, starting out in radio at Power 104.1 in Hartford, CT., and landing his show on Power 105.1. He mentioned being inspired and growing up in the DJ mixtape era. He spoke about his interest of creating movies, specifically horror, and his company The Feature Presentation Studios. We went over the classic horror movies from the 60s, 70s, 80s, and 90s & how the 80s were the golden age for horror and slasher films. We got into how the radio industry has changed and how it has become more of a business as well as the true New York Hip-Hop sound not being played on New York Hip-Hop FM radio stations. Suss One has a lot on the way as far as content for his show and horror movie scripts. You can catch him mixing live on The Wendy Williams Show as well as live on Power 105.1 on Saturdays from 10am-2pm est and Sundays from 4-8pm est & 10pm-2am est.
Follow DJ Suss One on Instagram and Twitter: @djsussone
Follow me on Instagram and Twitter: @thereelmax.
Website: https://maxcoughlan.com/index.html. 
Website live show streaming link: https://maxcoughlan.com/sports-and-hip-hop-with-dj-mad-max-live-stream.html. 
MAD MAX Radio on Live 365: https://live365.com/station/MAD-MAX-Radio-a15096.
Subscribe to my YouTube channel Sports and Hip Hop with DJ Mad Max: https://m.youtube.com/channel/UCE0107atIPV-mVm0M3UJyPg. 
DJ Suss One on "Sports and Hip-Hop with DJ Mad Max" visual on YouTube: https://www.youtube.com/watch?v=ykVudOvsOVc.