DJ Mad Max is working to bridge the gap between old & new school Hip-Hop through his show Sports and Hip-Hop with DJ Mad Max. With his vast Hip-Hop knowledge and unique interview style, he is introducing his generation to the legends that started it all. The show features a wide variety of guest stars including Hip-Hop artists of the past & present, R&B artists, producers/DJs, industry managers, and even pro athletes. When possible guest rappers bless the show with a freestyle. Max likes to mix it up and talk sports with his Hip-Hop guests, and Hip-Hop with his sports guests.
Episodes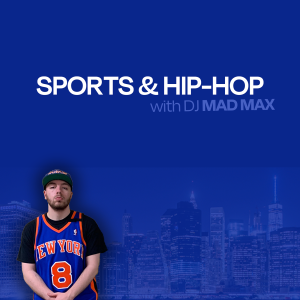 Monday Sep 04, 2023
Monday Sep 04, 2023
Thank you to Pontiac, Michigan and Middle Tennessee's own Derek Minor for coming on my show for an interview! Derek discussed his new album Nobody's Perfect, the visual commentary breakdown on all of the songs on the album, and overcoming deep depression. He talked about losing opportunities to perform when speaking out about the George Floyd murder, marriage being about changing yourself, and poverty being a mindset even when he started making money. He got into his thoughts on the writers and actors strikes, religion being manipulated by political parties, and going back to Middle Tennessee State University to give speeches. Derek also spoke about promoting his campaign ownership is the new black, his musical influences, and his plans on putting together an upcoming tour for Nobody's Perfect. Stay tuned!
Derek Minor's new album Nobody's Perfect is available on all platforms, including Apple Music: https://music.apple.com/us/album/nobodys-perfect/1701892616.
Follow Derek Minor on Instagram and Twitter: @thederekminor
Follow me on Instagram and Twitter: @thereelmax
Website: https://maxcoughlan.com/index.html.
Website live show streaming link: https://maxcoughlan.com/sports-and-hip-hop-with-dj-mad-max-live-stream.html.
MAD MAX Radio on Live365: https://live365.com/station/MAD-MAX-Radio-a15096.
Subscribe to my YouTube channel Sports and Hip Hop with DJ Mad Max: https://m.youtube.com/channel/UCE0107atIPV-mVm0M3UJyPg.
Derek Minor on "Sports and Hip-Hop with DJ Mad Max" visual on YouTube: https://www.youtube.com/watch?v=35JtcElWurk.