DJ Mad Max is working to bridge the gap between old & new school Hip-Hop through his show Sports and Hip-Hop with DJ Mad Max. With his vast Hip-Hop knowledge and unique interview style, he is introducing his generation to the legends that started it all. The show features a wide variety of guest stars including Hip-Hop artists of the past & present, R&B artists, producers/DJs, industry managers, and even pro athletes. When possible guest rappers bless the show with a freestyle. Max likes to mix it up and talk sports with his Hip-Hop guests, and Hip-Hop with his sports guests.
Episodes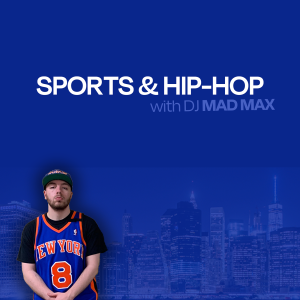 Thursday Sep 21, 2023
Thursday Sep 21, 2023
Thank you to New Orleans, Louisiana's own Dee-1 for coming on my show for an interview! Dee-1 discussed his new album UNO, his song Shine On with The Game, and Your Story Is Your Glory. He talked about teaching Hip-Hop courses as a professor at Harvard University and Tufts University, why college isn't a scam, and graduating from LSU with a business degree. He got into his new children's book David Found His Slingshot, overcoming bullying, and what he has on the way with his independent label Mission Vision. He also spoke about opening up for Afeni Shakur, turning down a deal with Cash Money, and why artists will never go on strike with their labels. Stay tuned!
Dee-1's new album UNO is available on all platforms, including Apple Music: https://music.apple.com/us/album/uno/1702915912.
You can purchase Dee-1's new book David Found His Slingshot on his website: https://missionvisionlifestyle.com/products/david-found-his-slingshot.
Follow Dee-1 on Instagram and Twitter: @dee1music
Follow me on Instagram and Twitter: @thereelmax
Website: https://maxcoughlan.com/index.html. Website live show streaming link: https://maxcoughlan.com/sports-and-hip-hop-with-dj-mad-max-live-stream.html.
MAD MAX Radio on Live365: https://live365.com/station/MAD-MAX-Radio-a15096.
Subscribe to my YouTube channel Sports and Hip Hop with DJ Mad Max: https://m.youtube.com/channel/UCE0107atIPV-mVm0M3UJyPg.
Dee-1 on "Sports and Hip-Hop with DJ Mad Max" visual on YouTube: https://www.youtube.com/watch?v=wPWCRXlrhzU.