DJ Mad Max is working to bridge the gap between old & new school Hip-Hop through his show Sports and Hip-Hop with DJ Mad Max. With his vast Hip-Hop knowledge and unique interview style, he is introducing his generation to the legends that started it all. The show features a wide variety of guest stars including Hip-Hop artists of the past & present, R&B artists, producers/DJs, industry managers, and even pro athletes. When possible guest rappers bless the show with a freestyle. Max likes to mix it up and talk sports with his Hip-Hop guests, and Hip-Hop with his sports guests.
Episodes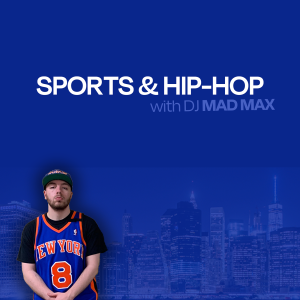 Saturday Aug 26, 2023
Saturday Aug 26, 2023
Thank you to Buffalo, New York's own Big Kulu for coming on my show for an interview! Big Kulu discussed his newest single I Wanna Know, the Buffalo, New York music scene being an untold story, and wanting to bring peace to his home country of Cameroon. He talked about almost playing soccer professionally, receiving a degree in both history and religion, and creating the sound called Afro States. He got into being independent with his label Real Life Music, his father instilling family, food, and faith in him at an early age, and his upcoming EP releasing this fall. Stay tuned!
ATTENTION: Calling ALL DANCERS! "WHO IS BIG KULU?" CAMPAIGN DANCE CHALLENGE INSTRUCTIONS:
Make your own dance on TIKTOK using the sound of my new hit single "I WANNA KNOW"
Tag Me @BigKulu on TIKTOK AND hashtag #BigKulu #IWannaKnow #whoisbigkuludancechallenge
Winner will be chosen by August 27th. Let's GO!!! 🔥🔥🔥
First Prize: $500 Or Opportunity to Dance On Stage with me in Tampa, Florida on September 9th w/ expenses paid
Second Prize: Ethika package sent directly to your home
Third Prize: BIG KULU MERCH
Big Kulu's new single I Wanna Know is available on all platforms, including Apple Music: https://music.apple.com/us/album/i-wanna-know-single-feat-zion-delion-single/1687693463.
Follow Big Kulu on Instagram and Twitter: @bigkulu
Shoutout to L Nyce for connecting us! Follow L Nyce on Instagram and Twitter: @lnyce
Follow me on Instagram and Twitter: @thereelmax
Website: https://maxcoughlan.com/index.html.
Website live show streaming link: https://maxcoughlan.com/sports-and-hip-hop-with-dj-mad-max-live-stream.html.
MAD MAX Radio on Live365: https://live365.com/station/MAD-MAX-Radio-a15096.
Subscribe to my YouTube channel Sports and Hip Hop with DJ Mad Max: https://m.youtube.com/channel/UCE0107atIPV-mVm0M3UJyPg.
Big Kulu on "Sports and Hip-Hop with DJ Mad Max" visual on YouTube: https://www.youtube.com/watch?v=G1bvul2TYfY.