DJ Mad Max is working to bridge the gap between old & new school Hip-Hop through his show Sports and Hip-Hop with DJ Mad Max. With his vast Hip-Hop knowledge and unique interview style, he is introducing his generation to the legends that started it all. The show features a wide variety of guest stars including Hip-Hop artists of the past & present, R&B artists, producers/DJs, industry managers, and even pro athletes. When possible guest rappers bless the show with a freestyle. Max likes to mix it up and talk sports with his Hip-Hop guests, and Hip-Hop with his sports guests.
Episodes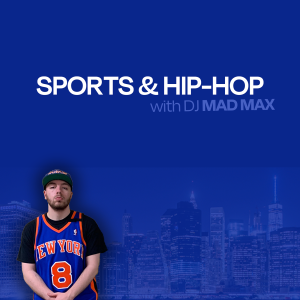 Tuesday Sep 12, 2023
Tuesday Sep 12, 2023
Thank you to Atlanta, Georgia's own Bali Baby for coming on my show for an interview! Bali Baby discussed her new The Book Of Bali, Vol. 2 EP, Hot Sauce being the hit song off of it, and Bitches In Paris being an homage to Jay-Z and Kanye West's song from Watch The Throne. She talked about her parents being her biggest supporters, wanting to get her Playgirls a major label deal, and her new distribution deal with RBC under BMG. She got into her acting aspirations, wanting to work with Mötley Crüe, and touring in Tokyo, Japan. Stay tuned for her upcoming performances as well as what she has planned for the Halloween season this October!
Bali Baby's new EP The Book Of Bali, Vol. 2 is available on all platforms, including Apple Music: https://music.apple.com/us/album/the-book-of-bali-vol-2-ep/1702609007.
Follow Bali Baby on Instagram: @balionabeat and Twitter: @balionabeatt
Follow me on Instagram and Twitter: @thereelmax
Website: https://maxcoughlan.com/index.html.
Website live show streaming link: https://maxcoughlan.com/sports-and-hip-hop-with-dj-mad-max-live-stream.html.
MAD MAX Radio on Live365: https://live365.com/station/MAD-MAX-Radio-a15096.
Subscribe to my YouTube channel Sports and Hip Hop with DJ Mad Max: https://m.youtube.com/channel/UCE0107atIPV-mVm0M3UJyPg.
Bali Baby on "Sports and Hip-Hop with DJ Mad Max" visual on YouTube: https://www.youtube.com/watch?v=D7kjjqI2ea4.