DJ Mad Max is working to bridge the gap between old & new school Hip-Hop through his show Sports and Hip-Hop with DJ Mad Max. With his vast Hip-Hop knowledge and unique interview style, he is introducing his generation to the legends that started it all. The show features a wide variety of guest stars including Hip-Hop artists of the past & present, R&B artists, producers/DJs, industry managers, and even pro athletes. When possible guest rappers bless the show with a freestyle. Max likes to mix it up and talk sports with his Hip-Hop guests, and Hip-Hop with his sports guests.
Episodes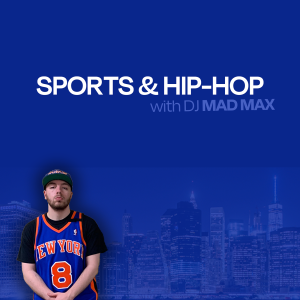 Tuesday Mar 28, 2023
Tuesday Mar 28, 2023
Shoutout to Louisville, Kentucky's own B Simm for coming on my show for an interview! B Simm talked about signing to Ethika Music, performing at SXSW for the first time, and his newest single Just Bags. He discussed You Don't Want These Cards being a major part of his hard work paying off, going on tour with Lil Wayne, and acting in the movie River Runs Red with Taye Diggs. He also got into being cool with Dame Dash, his song Beyoncé's Letter (Justice 4 Breonna Taylor), and Jack Harlow trying to get a feature from him when he was starting out. B Simm announced that he has a song for the ladies, a 80s Hip-Hop song, and a 90s Hip-Hop song on the way. Stay tuned!
B Simm's new song Just Bags is available on all platforms, including Apple Music: https://music.apple.com/us/album/just-bags/1651375015?i=1651375017.
Follow B Simm on Instagram: @simm_citi and Twitter: @officialbsimm
Shoutout to Lnyce for connecting us! Follow Lnyce on Instagram and Twitter: @lnyce
Follow me on Instagram and Twitter: @thereelmax
Website: https://maxcoughlan.com/index.html.
Website live show streaming link: https://maxcoughlan.com/sports-and-hip-hop-with-dj-mad-max-live-stream.html.
MAD MAX Radio on Live365: https://live365.com/station/MAD-MAX-Radio-a15096.
Subscribe to my YouTube channel Sports and Hip Hop with DJ Mad Max: https://m.youtube.com/channel/UCE0107atIPV-mVm0M3UJyPg.
B Simm on "Sports and Hip-Hop with DJ Mad Max" visual on YouTube: https://www.youtube.com/watch?v=L7vn_IARHNw.