DJ Mad Max is working to bridge the gap between old & new school Hip-Hop through his show Sports and Hip-Hop with DJ Mad Max. With his vast Hip-Hop knowledge and unique interview style, he is introducing his generation to the legends that started it all. The show features a wide variety of guest stars including Hip-Hop artists of the past & present, R&B artists, producers/DJs, industry managers, and even pro athletes. When possible guest rappers bless the show with a freestyle. Max likes to mix it up and talk sports with his Hip-Hop guests, and Hip-Hop with his sports guests.
Episodes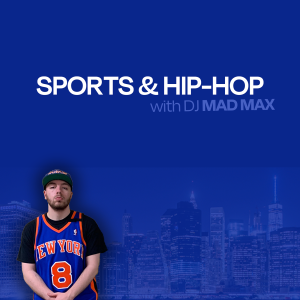 Monday Apr 03, 2023
Monday Apr 03, 2023
Thank you to Wilmington, Delaware and Tampa, Florida's own Aych for coming on my show for an interview! Aych talked about his Loud on Seventh Music Festival, admiring how Jay-Z maneuvered through the industry at an early age, and rapping because he likes doing it. He got into being on BET's 106 & Park, creating Da Cypher, running the longest open mic in Florida, and the importance of building relationships in the industry. Aych also got into wanting to drop one more album, receiving co-signs from Pusha T and Jadakiss, and this years upcoming Loud on Seventh Music being a second win for him in September. Stay tuned!
Aych's music is available on all platforms, including Apple Music: https://music.apple.com/us/artist/aych/501091142.
Follow Aych on Instagram and Twitter: @aych302
Follow Loud on 7th Music Festival on Instagram: @loudonseventh
Shoutout to Lnyce for connecting us! Follow Lnyce on Instagram and Twitter: @lnyce
Follow me on Instagram and Twitter: @thereelmax
Website: https://maxcoughlan.com/index.html.
Website live show streaming link: https://maxcoughlan.com/sports-and-hip-hop-with-dj-mad-max-live-stream.html.
MAD MAX Radio on Live365: https://live365.com/station/MAD-MAX-Radio-a15096.
Subscribe to my YouTube channel Sports and Hip Hop with DJ Mad Max: https://m.youtube.com/channel/UCE0107atIPV-mVm0M3UJyPg.
Aych on "Sports and Hip-Hop with DJ Mad Max" visual on YouTube: https://www.youtube.com/watch?v=DXmnoSjQa8E.