DJ Mad Max is working to bridge the gap between old & new school Hip-Hop through his show Sports and Hip-Hop with DJ Mad Max. With his vast Hip-Hop knowledge and unique interview style, he is introducing his generation to the legends that started it all. The show features a wide variety of guest stars including Hip-Hop artists of the past & present, R&B artists, producers/DJs, industry managers, and even pro athletes. When possible guest rappers bless the show with a freestyle. Max likes to mix it up and talk sports with his Hip-Hop guests, and Hip-Hop with his sports guests.
Episodes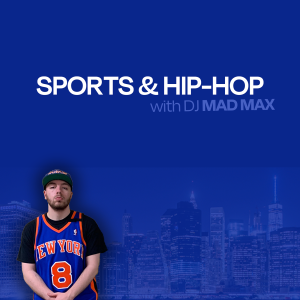 Thursday Apr 27, 2023
Thursday Apr 27, 2023
Thank you to Raleigh, North Memphis Tennessee's own Action Pack for coming on my show for an interview! Action Pack talked about his new album I'm Action, how the album is changing is life, and Yo Gotti taking him under his wing. He got into being comfortable being independent with WolfPackGlobalMusic, creatives needing to focus on the passion instead of the money aspect, and writing his first song at the age of nine. He also discussed his upcoming collaboration project, celebrating his 22nd birthday, and by the time he turns 23 wanting to sign artists to his own label. He also got into the importance of taking acting classes, not paying attention to the haters, and getting fame while still in high school. Stay tuned!
Action Pack's new album I'm Action is available on all platforms, including Apple Music: https://music.apple.com/us/album/im-action/167349510.
Follow Action Pack on Instagram: @actionpackap and Twitter: @actionpack_ap
Follow me on Instagram and Twitter: @thereelmax
Website: https://maxcoughlan.com/index.html.
Website live show streaming link: https://maxcoughlan.com/sports-and-hip-hop-with-dj-mad-max-live-stream.html.
MAD MAX Radio on Live365: https://live365.com/station/MAD-MAX-Radio-a15096.
Subscribe to my YouTube channel Sports and Hip Hop with DJ Mad Max: https://m.youtube.com/channel/UCE0107atIPV-mVm0M3UJyPg. 
Action Pack on "Sports and Hip-Hop with DJ Mad Max" visual on YouTube: https://www.youtube.com/watch?v=LwAxMxkVVJc.